OppTy is where Talent meets Technology, and together they converge to form a social media platform that provides comprehensive talent management services.
With the first, one-of-a-kind automated recruitment system, we offer the complete package from sourcing, searching, coordinating, matching, and hiring.
OppTy has crafted a two-way talent management platform that utilizes AI-based algorithms and an in-house automated system to produce successful and tangible
results. Our social media platform is built to bridge the gap between job seekers and talent hunters. The platform offers features designed to aid job seekers
in getting what they want and talent hunters to find what they need.
OppTy is a smart, intuitive and powerful career guidance platform your hiring team will love to use. OppTy will be your go to platform for all things related to career from career planning, career test, career counselling, career advice, career builder, recruitment, to job applications.
CV Creation & Advice
Guidance through the resume creation process.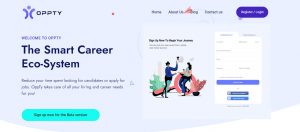 Career Roadmap Assistance
Advice and visualization of desired career based on individual's skills and interest.
Interview Prep
Preparation and guidance through the complete interview process.
Potential Candidates Pool
A curated list of candidates suitable for specific job positions.
All-in-one recruiting process
From sourcing to coordinating, to matching, to hiring all done on a single platform.
Complete Online Process
Less paperwork is involved throughout the process – everything is done Online.
For Job Seekers
Searching for your dream job can be tedious. You are often lost in the sea of choices, confused about which choice is the best to make your career grow.
You want advice but don't know where to start or whom to ask. You are anxious about your resume, cover letter and wonder if you are asking too much or too little.
For Talent Hunters
Finding the right talent is tough. You want someone that fits the job requirement like a jigsaw puzzle. You wish the process to be efficient, not waste
time with cold calls to candidates that don't fit the job role or interview that don't yield any result.