If you are about to turn 65, you have probably been studying up on how Medicare works and the various plans it offers. Because some of the plans are similar, the differences between them are often blurred, leaving potential beneficiaries confused about what plan is right for them.
Medicare Part C, known as a Medicare Advantage Plan, is one of the four basic parts of the Medicare system. It allows users of the original Medicare Parts A and B to get coverage from a government approved private insurance company of their choice. Medicare Advantage Plans include plans like Health Maintenance Organization Plans (HMO) and Preferred Provider Organization Plans (PPO). The biggest weakness the original Medicare plans have is that they do not cover the cost of prescription drugs. If you want additional coverage, you have a few options.
Medicare Part D is available to anyone with original Medicare (Parts A and B), and can help cover the costs of prescription drugs. You must get this coverage through a private insurance company approved by Medicare. If you have a Medigap policy, the same as supplemental Medicare insurance, it may already cover the costs of drugs. But if it does not, you are allowed to get a Medicare Prescription Drug Plan as part of Medicare Part D, but must alert your insurance company if you do so. Not all supplemental Medicare plans will cover drug costs, so it is important to make sure the plan you choose offers this benefit. If it does not, just remember that you can still get drug coverage through a Medicare Plan.
If you are not going to utilize Medicare Part D, or get supplemental Medicare insurance, consider Medicare Part C – the Medicare Advantage Plan. These plans, provided by private insurance companies, may offer prescription drug coverage at an additional cost. If you have one of these plans, you will not need supplemental Medicare insurance at all; it is simply an alternative. Make sure to check your coverage history from past employers; you might have additional coverage choices if your former or current employer provided you with prescription coverage.
Make sure not to buy a supplemental Medicare plan if you already have a Medicare Advantage Plan. Doing this is illegal, unless you are completely dropping your Medigap plan and returning to original Medicare. Be very careful before ever dropping your supplemental Medicare insurance, because it is possible that you may not be able get it back in the future. Discuss the issue with your State Health Insurance Assistance Program and your insurance company before ever making a decision that could affect your long-term health coverage.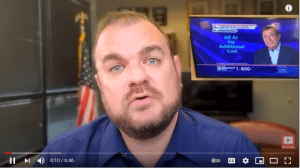 How to Leave a Medicare Advantage Plan – Christopher Westfall
How to get off of a Medicare Advantage Plan. Thank You.
SeniorSavingsNetwork.org was started by Christopher Westfall. Inspired by seeing his grandmother battle a Medicare Advantage company over hospital
payments, Christopher obtained his license in 1991. At the time, Christopher worked with seniors part-time while working as a full-time law enforcement
officer. But in 2008, Christopher left law enforcement to commit his time to helping seniors.